The September 7 to 12 Corinphila Sales includes some remarkable rare GB Used covers, highlighted selection :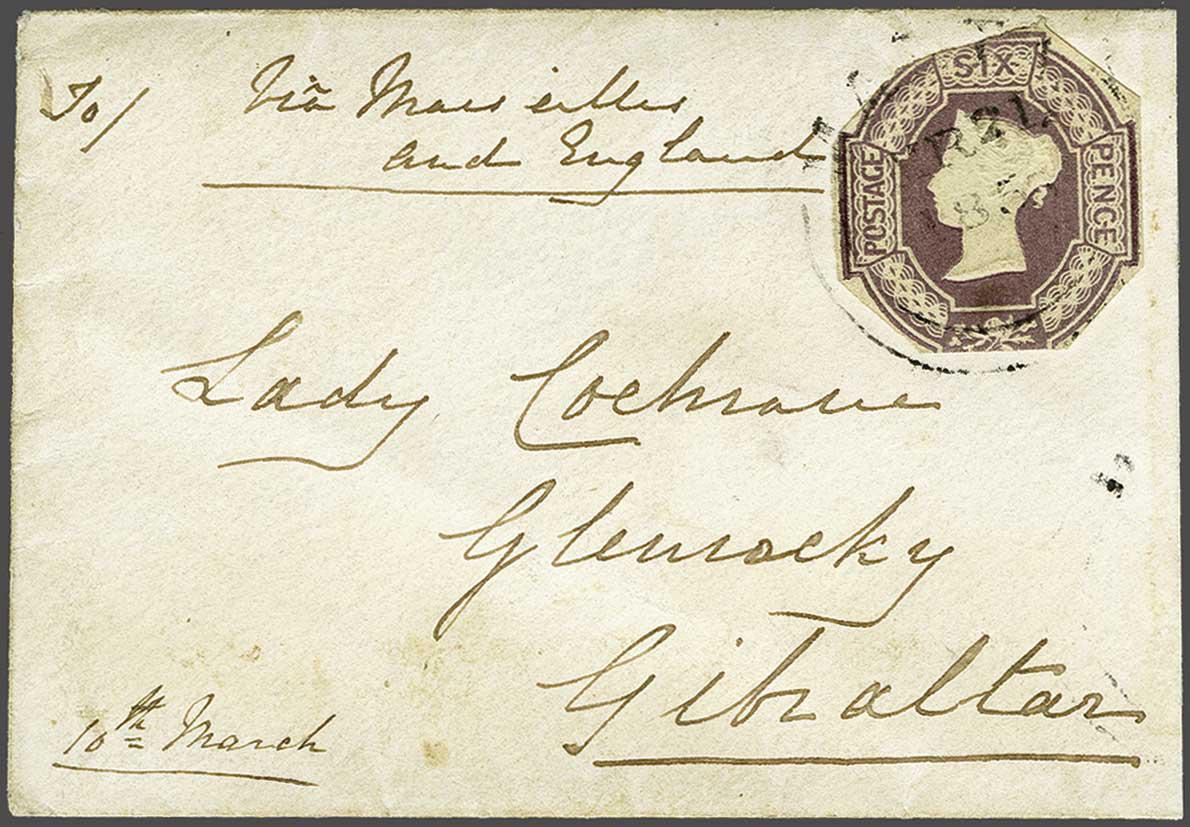 1856 (March 21): Great Britain Embossed 6 d. violet, a cut-round example used on 1856 cover from Malta to Lady Cochrane in Gibraltar, endorsed 'via Marseilles and England', cancelled solely by double arc "MALTA" datestamp in black (March 21). The envelope trimmed at right but of great rarity. Cert. RPSL (1947) Gi = £ 4'500 off cover.rnProvenance: Collection H.S. Damsell,RL, London, 16 Nov 1955, lot 27.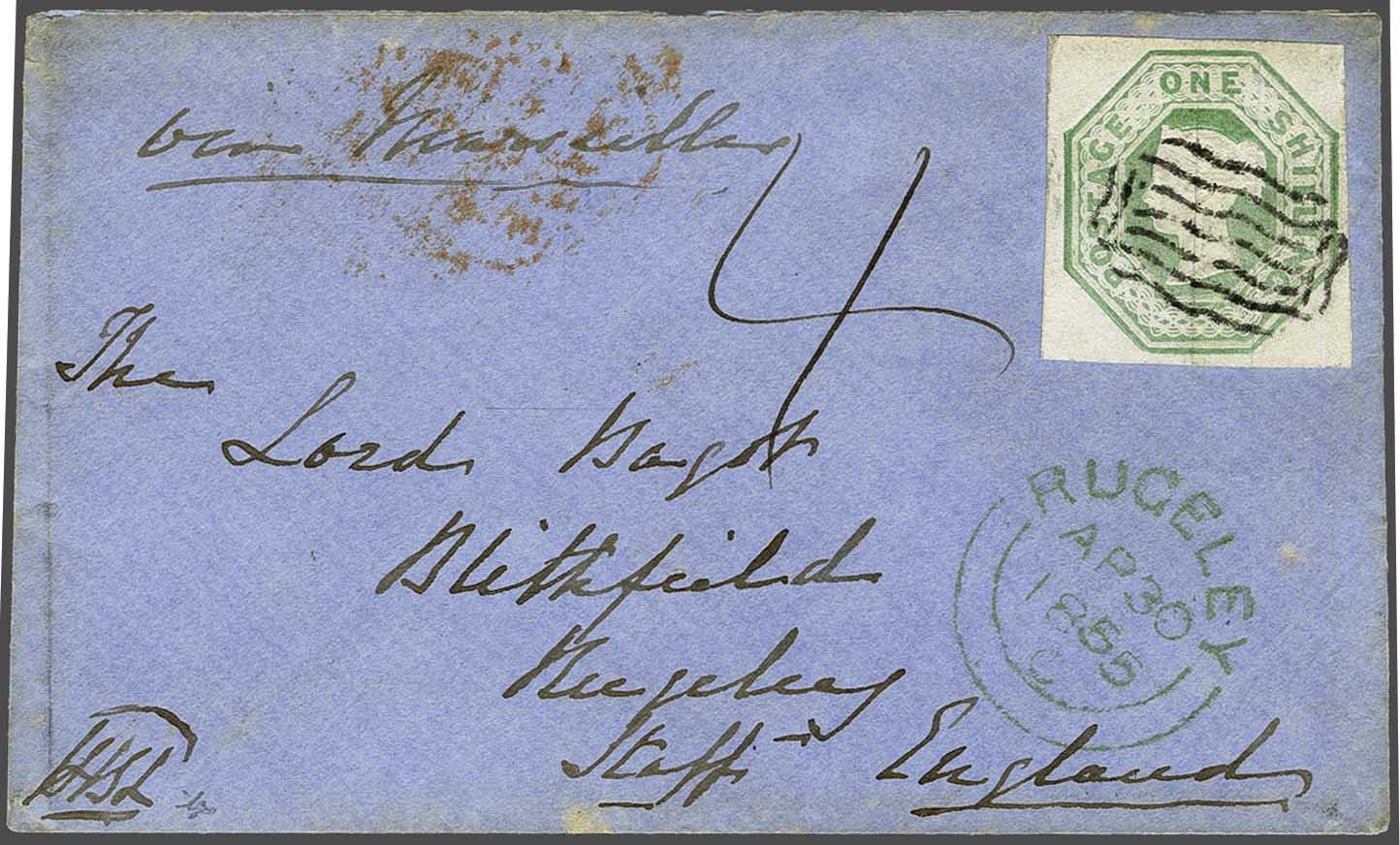 1872 (Nov 5): Great Britain 1867 10 d. red-brown, a used example of rich colour, on 1872 cover from Malta to Key West, Florida, USA tied by bold strike of horizontal "MALTA / A25" duplex (Nov 5). 'London / Paid' transit (Nov 12) in red and carried on the White Star Line Steamer 'Baltic' with 'New York / Paid All' cds and '2 / Cents' credit mark in red (Nov 20). Key West arrival in black and struck there with ADVERTISED in black and "UNCLAIMED" in red with 'Dead Letter Office' datestamp (Feb 24, 1873) in blue on reverse. A very attractive and unusual cover.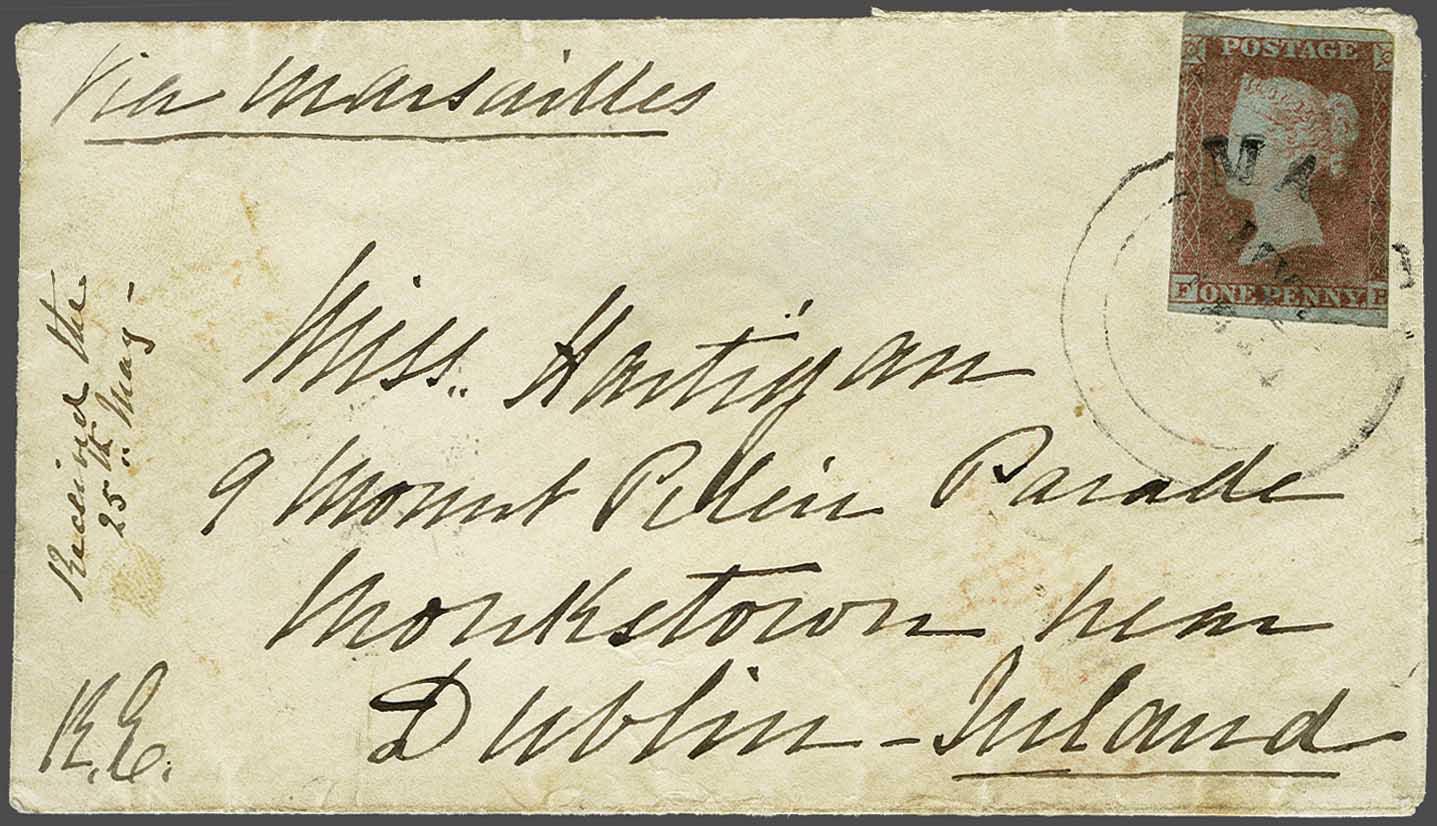 1854 (May 11): Great Britain 1841 1 d. red-brown imperforate, Alphabet II, lettered FH, margins at top and at base, used on 1854 cover from Malta to Dublin, Ireland endorsed 'via Marseilles', tied by double arc "MALTA" datestamp in black with reverse showing London (May 24) and Dublin transits in red and 'Kingstown' arrival (May 25) in black. Cover endorsed at lower left 'R.E.' - the sender being Lieutenant Richard Fitzrichard Eyre, grandson of Baron Eyre of Ireland, he was in the 44th Regiment and died of Cholera in the Crimea. An extraordinary and unique usage - no imperforates are recorded used in Malta by Stanley Gibbons - the cover was most probably accepted as a Soldier's or Sailor's Letter at the concessionary 1 penny rate. Reportedly "the earliest G.G. 'Used Abroad' cover where the Office came under the direct control of the GPO in London" - Parmenter, page 1/14. Extremely rare.rnrnProvenance: Collection H.S. Damsell, RL, London, 16 Nov 1955, lot 26, Collection H.A. Cann, Harmers, London, 15 June 1970, lot 1, Collection Louis Frank, RL, Basel, 18 Oct 1972, lot 1042.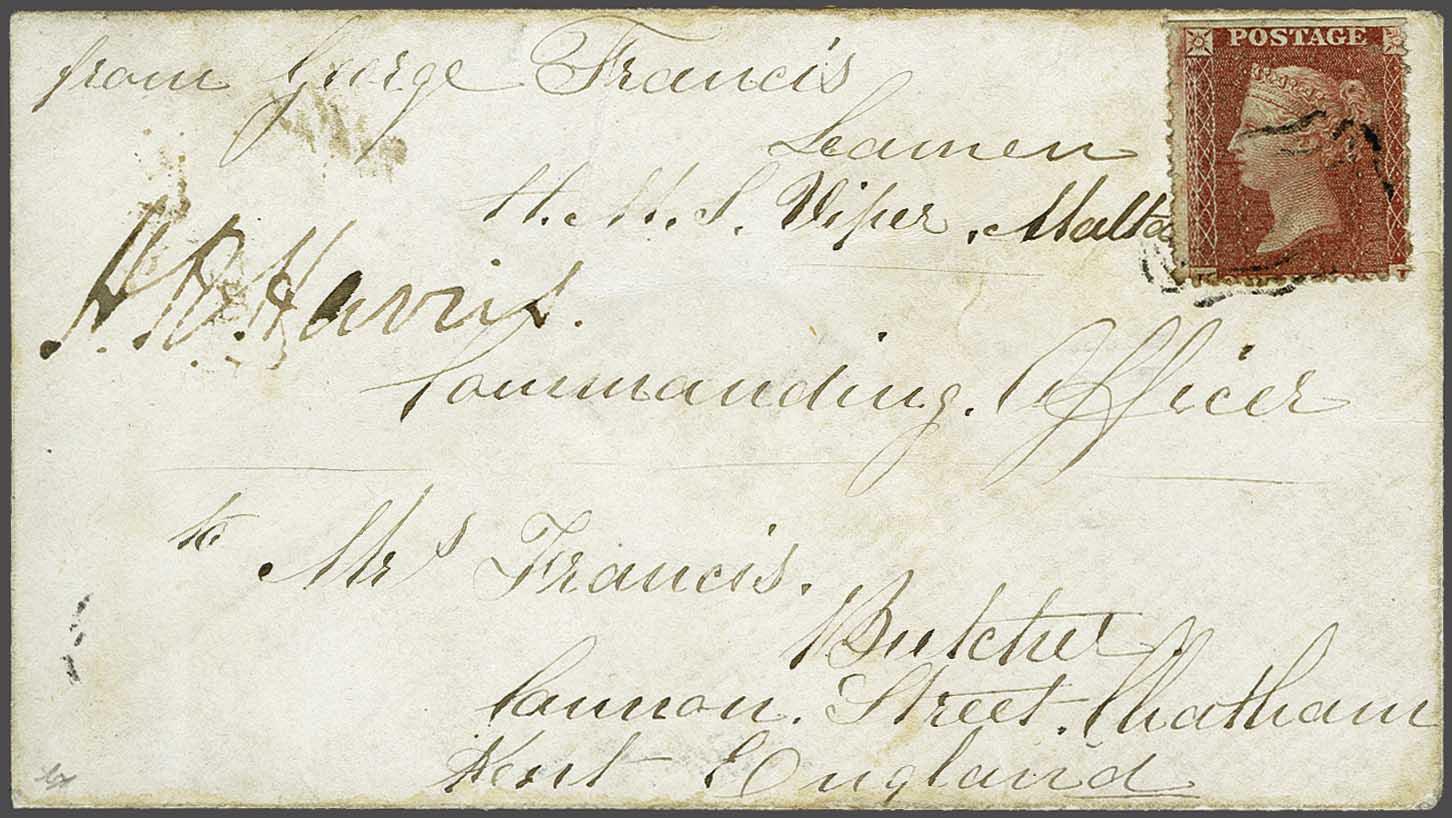 1856 (Feb): Great Britain 1855 1 d. red-brown, wmk. Large Crown, perf. 14, lettered KI, a single example with misplaced perforations and imperforate at top, tied by good strike of the Malta "Wavy Lines" handstamp applied at Valletta in black to Sailor's concessionary rate cover to Chatham, Kent endorsed at top "From George Francis, Seaman / HMS Viper, Malta" and countersigned by his Commanding Officer "H.R.Harris" below; the reverse with London cds (March 6) and double arc Chatham arrival (March 7) struck in blue. Rare and fine.rnProvenance: Collection Col. J.R. Danson, RL, London, 30 June 1971, lot 1180; Collection 'De Boer', Corinphila sale 100, June 1997, lot 4737.rn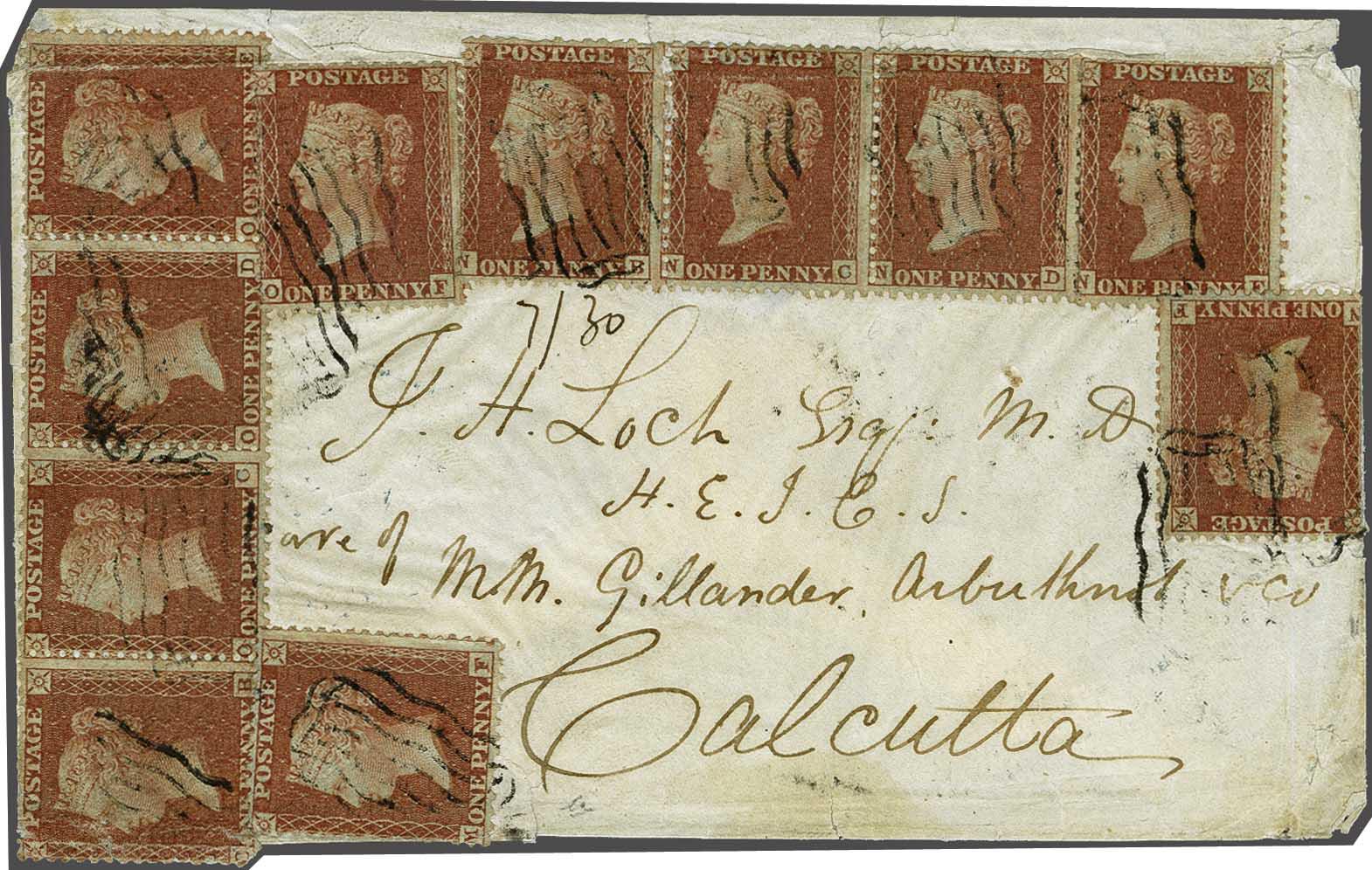 1855 (April 29): Great Britain 1855, 1 d. red stars, Die II, wmk. Small Crown, perf. 14, plate 5; the astonishing cover to Dr. Loch in Calcutta with no less than eleven examples (lettered CB-CE, MF, NB-ND, NE, NF and OF) all tied by eleven strikes of the Malta "Wavy Lines" handstamp applied in transit at Valletta in black. The reverse with double arc MALTA unclear datestamp, 'Alexandria' British Post Office double arc cds in blue (June 3) and framed "CALCUTTA / STEAMER LETTER / Bearing" (charge 8 annas) of arrival (June 30) and manuscript 'Rec'd July 8/55 Nongong'. The letter fully paid 5d. to Malta and 6d. to Alexandria. Typical creases commensurate to journey and handling with complete contents written from The Palace Hospital, Scutari, Constantinople written by Dr. F. de Chaumont to his medical colleague describing conditions in the Crimea and the various treatments being used to combat the range of diseases and in particular a wound inflicted on one patient at the Battle of Inkerman. Illustrated in Parmenter & Gordon on page 1/12. A great Postal History rarity and a unique franking.rnProvenance: RL, London, 10 June 1970, lot 1413; Collection André Bollen, Köhler, Wiesbaden, 8 Feb 1983, lot 60.